Nonprofit Capacity Building
We are one of the most knowledgeable and experienced consulting firms available for nonprofit organizations. We have successfully served 100s of nonprofits, providing a wide range of services to meet a wide range of needs.
(Here is a free, an on-line organizational assessment tool that you can use right now to get an impression of the quality of practices in your nonprofit!
See the organizational assessment tool.)
The following links jump down to sections of this page.
Our Nonprofit Services
We provide consulting, training and publications in the following areas:
Organizational development and change
Organizational assessment and evaluation
Organizational "turnarounds"
Board development
Strategic planning and facilitation
Nonprofit business development (including earned-income)
Resource development (including fundraising)
Leadership and supervisory development
Program development, marketing and evaluation
Capacity building program design and development
Peer learning programs
Types of Our Nonprofit Clients
We serve a wide variety of nonprofits and organizations that serve nonprofits, for example:
Nonprofits providing services to their community
Management support organizations
Foundations
Training centers
Associations
Problems With "Silo" Approaches to Nonprofit Services
How often have you seen the following problem?
Nonprofit leaders think they need help in fundraising, so they recruit a fundraising expert.
Soon the leaders realize that, before they can do effective fundraising, they really need to do strategic planning. So they recruit a strategic planning expert.
Soon the leaders realize that, before they can do effective strategic planning, they really need to develop their Board of directors. So they recruit a Board development expert.
On and on the consulting circus goes ... and nonprofits continue to suffer from it, whether they need Board development, strategic planning, program development, nonprofit business development, fundraising, program evaluation, etc.
Why You Should Choose Our Firm
We Realize That:
Nonprofits, like all organizations, are systems. You can't just focus on one function (eg, nonprofit business development) without giving at least some attention to the rest (eg, Board development, strategic planning, management development, employee performance management, etc.). A comprehensive, integrated and holistic approach actually saves time and money for the nonprofit in the long run!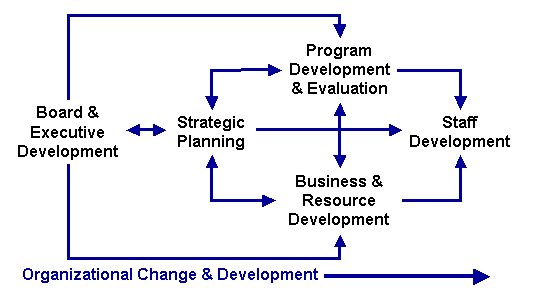 There's a complete body of research and learning around organizational development and change! Far too often, this body is seldom tapped when working with nonprofits!
It can require a lot of courage from nonprofit leaders to embark on major forms of development in nonprofits. Therefore, effective services to nonprofits require forms of ongoing support and feedback, rather than forms of one-shot help.
The typical nonprofit does not have the resources needed to promptly implement extensive consultation plans. Consultation plans must be practical and realistic!
We:
Have a broad range of expertise and services to nonprofits.
Don't forget that major forms of development (Board development, resource development and fundraising, program development, etc.) must occur within the overall context of organizational development and change.
Don't forget the critical role of support in any major organizational change effort.
Have extensive knowledge and experience in the most important aspects of organizational development in nonprofits.
Also have extensive understanding of for-profits -- we can reap the resources and learning from the for-profit world to bring to the nonprofit world.
Have experienced the joys and frustrations of leading large-scale organizational change efforts in nonprofits and for-profits.
Realize the day-to-day realities of running a nonprofit.
Read more about Authenticity Consulting, LLC.
Benefits of Our Holistic Approach to Nonprofit Capacity Building
There are many benefits to a nonprofit that uses our comprehensive, integrated approach to organizational change, the most important of which are:
Substantial cost savings from proactively and efficiently applying all change efforts on all aspects of the organization at once, rather than one at a time
More effective Board and staff development as a result of continuous learning
More adaptive and responsive organization because leaders can quickly perceive and manage changes
Better use of organizational resources because they are strongly aligned to achieve the overall goals of the organization
Enhanced credibility with clients and funders that recognize the organization's strong planning and management skills
Personal, professional and organizational development from ongoing sharing of feedback, support and learning among members of the organization
Our Approach to Nonprofit Consultation
Depending on the nature of the project and the client's preferences, we can:
Start with a quick and practical assessment of all aspects of the entire organization, results of which are reported to the Board and key staff. Particular focus is on readiness of the organization for consultation services and change.
Interview key members of the Board and staff to further understand the needs and nature of the organization and to identify the most likely internal change agents.
Work with the client to customize a practical and realistic consultation plan that is well suited to the needs and nature of the organization.
Focus on complete, yet highly practical plans -- plans that can be for all aspects of the organization.
Ensure that the consultation plan includes specific deliverables at key points in the consultation process in order to ensure continued communications and accountability. We also work with the client to build in clear indicators of success for the project.
Conduct frequent, quick and practical evaluations that include feedback from the client in order to ensure that the goals of the consulting contract are being met.
Schedule one-on-one coaching sessions with key members of the Board and staff to ensure ongoing focus, accountability and support to implement the plans.
Help the client to organize internal peer learning sessions in which members support and coach each other to implement their portions of the plans.
Recognize when changes are needed to the consultation plan and make those changes in a planned and orderly fashion.
Our Nonprofit Trainings
In addition to our services in Board, strategic planning, business development, leadership and supervision, resource development/fundraising and program development, we provide highly practical trainings, both for learners who are new to nonprofits and for learners who have taken the basics and want more. For more information about our trainings,
see our trainings.
Our Nonprofit Publications
Our publications are PACKED with highly practical information -- comprehensive, substantive and step-by-step instructions and materials. Our publications include:
You can get all four publications with a 15% discount by purchasing our
Nonprofit Capacity Building Toolkit.
Develop Peer Learning Programs for Nonprofit Leaders
Experts agree that peer learning programs hold great promise for nonprofit organizations. Adults learn by working on real-world challenges and exchanging feedback with others at the same time. Thus, peer learning programs are ideal for adult learning. The programs can provide ongoing, highly affordable means to low-cost materials, feedback and support among nonprofit leaders. We are the world's experts at providing peer learning programs for nonprofits.
See our peer learning programs.
Free On-Line Assessment of Your Nonprofit Right Now!
We posted the following assessment tool on-line so that you could use it to take a quick glance at the overall health of your nonprofit.
Checklist of Organizational Indicators.
Take a look at the results from your assessment.
Resources About Nonprofit Capacity Building
Authenticity Consulting, LLC, is pleased to provide one of the world's largest collections of well-organized, practical resources about all aspects of nonprofit capacity building.
Resources About Nonprofit Capacity Building.